What is ACE Training?
Designed for all agency personnel, Agent Continuing Education provides essential CNAN product and program information, and actionable sales techniques for both new and seasoned agents. We offer 101- and 201-level classes that take into account the experience of the participants in order to deliver the most effective training.
In addition to the educational aspect, agents who attend gain insight into our company culture, have opportunities to meet our leaders, build stronger relationships with key employees, and ultimately obtain an overall sense of what makes CNAN special.
Whether you've just started with us or have been with us for decades, attending these sessions will bring value to you, your business and your accounts. Read on for more details, including an outline of the curriculum.
Register Now
ACE Agenda
We offer two levels of training in one week, Monday to Thursday. The 101-level class is aimed at new agents; 201 is geared to experienced agents. However, all agents are welcome to take both courses for a full certification with CNA National.
Both sessions begin with a welcome reception or event and include evening networking opportunities.
101
Day 1 – Welcome reception 5:00 pm to 7:00 pm
Day 2 – 8:30 am to 5:00 pm
Day 3 – 8:30 am to 4:30 pm
201
Day 1 – Welcome event 5:30 pm to 7:30 pm
Day 2 – 8:30 am to 5:00 pm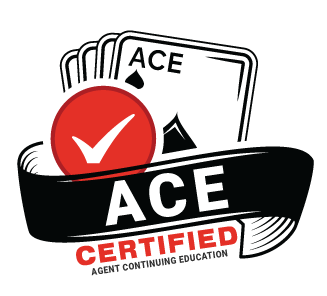 ACE 101
Introduction to CNAN, our culture, philosophy and department leaders
Comprehensive review of CNAN products and programs
In-depth look at our claims process, including listening to live calls
Demonstration of our web tools and online resources
High-level overview of participation programs
NOTE: ACE 101 is required for all agents, subagents and sales representatives prior to representing CNA National in the field.
ACE 201
Workshop on prospecting and acquisition with the Dealer Needs Analysis
Presentation development with Seismic
Account development tactics and techniques
Further understanding participation programs with special guest speakers