DOES YOUR PROFIT PARTICIPATION PLAN FIT YOU?
If your current provider offers only one option, you may wonder if it's a good fit for your financial goals.
Let the experts at CNA National, the
#1 Reinsurance Provider

, help you select the right plan to meet your needs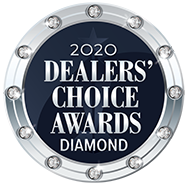 #1 REINSURANCE PROVIDER
We offer a variety of structures to serve your best interests and tailor programs to meet your long-term income objectives.
CFC   |   NCFC   |   DOWC   |   RETRO
LET'S WORK TOGETHER TO FIND THE PLAN THAT SUITS YOU!
*As awarded by Auto Dealer Today: Best Reinsurance Provider, 2011-2013, 2017, 2020.